Rafik Rousseau
Talk

0
152pages on
this wiki
Rafik Rousseau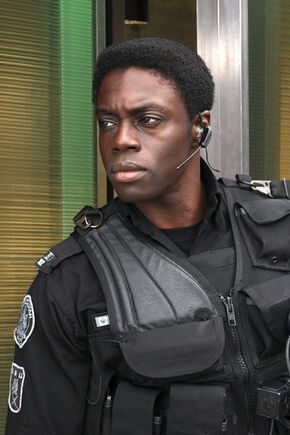 Constable Rafik Rousseau, SRU: Team One
| | |
| --- | --- |
| Full Name: | Rafik Rousseau |
| Nickname(s): | Raf |
| Gender: |   Male |
| Status: | Alive |
 
Occupation
Affiliation
Rank / Title
First Appearance:
A Day In The Life
Last Appearance:
Broken Peace
Cle Bennett showed up in season 2 episode 9 as the gang leader in exit wounds. It is unknown if it is on purpose and he joined SRU in revenge of SRU and pretended to be Raf(it would make sense because it was shown on Raf's first day on SRU of him making a deal with what seemed to be drug dealers before he got there), but if that were to be true there is no plot line that changes because of it. Raf join's Team 1 in mid-season 4 following Wordy's departure. He is ambitious and eager to learn from the rest of Team 1. However, he also wants to prove himself and is sometimes reckless (going in to talk down a subject without the boss's go-ahead).
Raf leaves Team 1 at the beginning of season 5 after the team was forced to kill a young woman who was about to shoot her abusive father. He felt that he couldn't function in a job that might put him in such a situation again.
It was revealed in 'A Day in the Life' that his father is in jail because he attacked a teacher who sexually assulted Raf when he was in high school. He and his father are still close and he understands why his father did what he did.
Raf is a musician and plays the piano and sings.