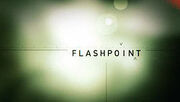 Flashpoint
 is a Canadian police drama television series that debuted on July 11, 2008 on CTV 
in Canada. In the United States, the series currently airs on ION Television
 and in the United Kingdom on Universal Channel
. The series has been broadcast on the Canadian French-lanuage 
network V 
in Quebec since March 9, 2009.
 The series was created by Marl Ellis 
and Stephanie Morgenstern 
and stars Hugh Dillion
, Amy Jo Johnson
, David Paetkau
, Sergio Di Zio and Enrico Colantoni
. It was announced January 25, 2011 that Ion Television 
had acquired all rights to the show held by CBS including the option to continue production.
Season I of Flashpoint. Season One premiered on July 11, 2008.
Series Regulars
Edit
Cast Notes
Edit
Episodes
Edit
There are a total of thirteen (13) episodes in this season:
Ad blocker interference detected!
Wikia is a free-to-use site that makes money from advertising. We have a modified experience for viewers using ad blockers

Wikia is not accessible if you've made further modifications. Remove the custom ad blocker rule(s) and the page will load as expected.